Home Center Pivot Systems
Center Pivot Irrigation Systems
Center Pivot are best suited for corn, cotton and hay applications.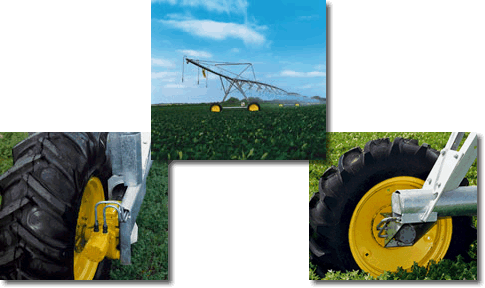 T-L's center pivot irrigation systems hydrostatic drives use the same hydraulic components growers are familiar with in other farming equipment, thus not requiring specialists to maintain.
T-L's hydrostatic drive delivers numerous advantages electrically driven systems can't: Continuous machine movement, which is critical to uniform water distribution, especially in low-pressure situations; Improved traction reducing the chances for getting stuck; and a constant-pressure-variable volume hydraulic pump ensuring full torque at any speed. Our unique alignment control valve will stop the system if the system gets stuck or seriously misaligned. A sensor will shut off the water at the same time. Structural and crop damage are avoided.
T-L drive units, unmatched in strength and traction, receive continuous power to each wheel from hydraulic motors that are directly coupled to the final drive gear assembly. Specifically designed for low-speed, high torques applications, they operate equally well in either direction.
Our planetary gear drive operates at nearly 90% efficiency. They get the power to the ground with a minimum of wasted energy. Three gears, instead of one, extend gear life and absorb stress. The reserve torque designed in protects against gearbox failure and ensures smooth operation at any speed. Another option, worm gear drives, are available at a lower cost and like the planetary drive, are the most efficient of its kind available today. Both drives are protected by the best warranty existing in the irrigation industry: 8 years/24,000 hours on planetaries, 8 year/ 16,000 hours on the worm drives!
Easy accessed for maintenance, T-L gear drives are totally enclosed and directly coupled to the motor, eliminating additional gear reduction components, U-joints, and other exposed or moving parts. Result; years of trouble-free service for your center pivot. Select from galvanized steel, aluminum, stainless steel or duplex coated polyurethane pipe in diameter options from 5" , 6" (aluminum), 6 5/8", 8" or 10".
Copyright 2006
Victoria Web Design